Did you know that we don't have to visit the doctor in person, and get a consultation online? 
Well, this practice is known as Telemedicine. With technological advancement, we are moving at a fast pace. A lot of sectors are developing through the propagation of technology.
From waiting in queues to get an appointment for a doctor, to getting a consultation virtually, we have evolved greatly. The practice of Telemedicine is nothing new. It has been among us for ages, however, it is only in the present era that it is getting popular and being used by the public as well. One of the reasons for this is the COVID-19 pandemic.
Telemedicine refers to getting medical services through telecommunications, and technology. In this case, a person does not have to visit the doctor's chamber. They can get a prescription and a diagnosis from the comfort of their homes. 
This system allows the medical professional to treat diagnose and cure ailments through the internet and technology. At present telemedicine can provide many services such as online consultations, prescription services, etc. 
1. What is Telemedicine?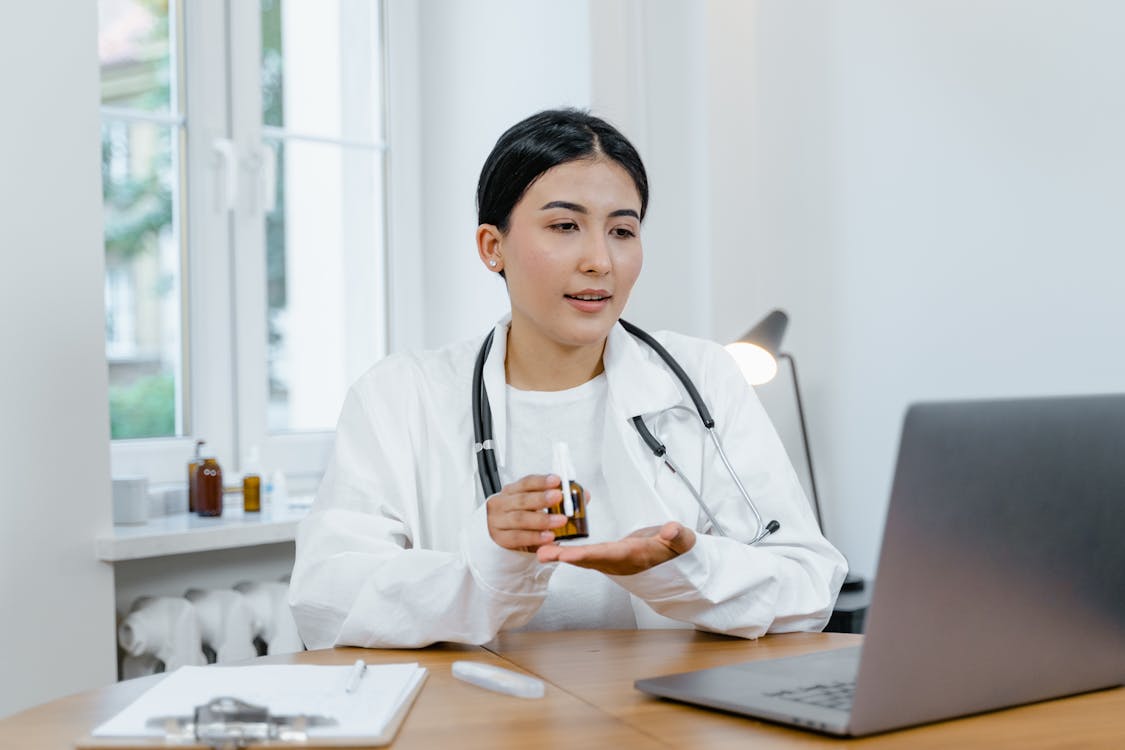 Telemedicine is the use of technology to connect healthcare professionals across the globe with patients and to cure ailments. They have the capability of connecting people seeking medical assistance virtually. This works wonders for people who are unable to visit a doctor in person due to their health. 
1.1 Origin of Telemedicine: 
The early 1900s saw the domination of radios for communication. The radio was popularised and used for several other purposes including entertainment, and national defence. This prompted the scientists to imagine what it would be like to have doctors communicate with patients via radios. This is where the idea of telemedicine arose. Several years later saw the manifestation of this exemplary idea. 
Telehealth started off in the 1940s in Pennsylvania when radiology images were sent to 24 miles between towns through telephone lines. This was the first example of electronic medical transfer. A doctor in Canada built upon this technology a system of teleradiology. This was used in and around Montreal. 
The first case of using video communication for medical purposes was in Nebraska. It was used by clinicians at Nebraska University. 
The research at the University of Nebraska was facilitated due to the fact that the rural communities were unable to locate these services, and they had no physical clinics to rely on either. This telehealth technology was to make medical services more accessible to them. 
1.2 Evolution: 
Telemedicine gained momentum and popularity in rural areas where they were unable to access medical services. The 1960s and 1970s saw the Public Health Department, NASA, the Department of Defense, and the U.S. Health and Human Services Department investing time and resources to facilitate research in telemedicine. 
Among their endeavours, their successful government project was a collaboration between the Indian Health Services and NASA. This project was known as the Space Technology Applied to Rural Papago Advanced Health Care (STARPAHC). 
2. Present of Telemedicine: 
The present situation of telemedicine is characterized by the growth of this field. This is an evolving field and further research in the future, will lead to this field being more evolved and advanced, with improvement in the present technology. 
The use of fitness trackers, and health monitors may also be considered as a part of telemedicine. These devices provide an almost accurate representation of the body temperature, heart rate, pulse rate, temperature, etc. This helps us keep the functioning of our body in check. 
Through this technology, we can also update ourselves on our health situations, and know how and when we need to visit the doctors. 
Some key features of this new technology are: 
2.1 Vast Usage: 
As a result of COVID-19, a lot of people have adopted telemedicine for their health concerns. At this time, people were not allowed to get out of the house, however, health concerns did not lessen. They remained the same, and hence to take care of themselves better, the people switched to telemedicine. 
Several healthcare providers and organizations started to adopt this type of service to provide their patients with the best of the services. 
2.2 Diversity: 
The branch of telemedicine is applicable to a lot of fields of medical concerns. These consist of primary care, consultations, mental health services, chronic diseases, follow-up appointments, etc. This emphasizes the various fields telemedicine can be applied.  
2.3 Hybrid models: 
Hybrid models are in use for many clinics and medical services. They combine virtual and in-person consultations for the patients to facilitate the best results for them. 
2.4 Telemedicine Platforms: 
Several telemedicine platforms are in use presently. They are used to book consultations, and therapy sessions, and even order medicines online. 
These platforms are patient-friendly and make sure that the patients are successfully able to book their appointments or address their health concerns properly. 
2.5 Favourable: 
The telemedicine platform is also favoured by patients as it is becoming simpler for them. In many cases, the patients may have to travel long distances to get to their doctors. The emergence of telemedicine is a favourable situation for them since they don't have to travel for long and can get consultations and prescriptions for their ailments. 
3. What are Some Platforms of Telemedicine at Present? 
Telemedicine has been revolutionary, and even though it is still an evolving technology, there are quite a few platforms of Telemedicine that are massively preferred by the public. These platforms help patients make appointments for their consultations, get prescriptions, or sometimes even a meeting with the doctor. 
Some of them are: 
A free-of-cost Telemedicine software that has been recently launched in the market, and connects doctors and patients from all over the world. 
This software was a result of the pandemic and the fact that patients weren't able to avail of health consultations in person. 
This is another software of Telemedicine and is made accessible for people who live in rural areas and cannot always avail of these opportunities. 
This software is compatible with multiple devices and produces an in-depth analysis of one's health condition. 
Like Practo, Rijuven also emerged as a result of the pandemic. 
MeMD is a telemedicine software that is known for its healthcare services for patients and for getting them back on their feet as soon as possible. One may not need to wait hours in the emergency room to get treatment for minor ailments. MeMD's doctors and qualified health professionals can treat common ailments.  
One of the oldest and most renowned telemedicine platforms is Teladoc. It is based in the United States and provides telehealth appointments for primary care, chronic ailments, therapy, counselling, and other categories. Their ways are affordable, and provide convenient care by phone or video.
They were founded on the idea of ensuring that people have the best access to healthcare and services, anywhere in the world and on their own terms too.
Finally, PlushCare is another service in this category. It is popular and known for its high-quality virtual primary care. As the others in this category, PlushCare also ensures a comfortable exchange between the doctor and patient. 
A patient can get in touch with the top doctors online and get personalized feedback on that. They claim that their highly skilled online doctors have been students of the top 50 medical schools in the US, and have experience of more than a decade. All these factors make a patient and their family more relaxed when consulting a doctor. 
4. What are the Benefits of Telemedicine?
Telemedicine as a field benefits both the patient and the health professional. Below are some of the ways in which they are beneficial:
4.1 A Convenient System: 
In the first place, this system of telemedicine establishes itself as a convenient way for patients to see their doctors from the comfort of their own homes. This saves, time, and transportation and is also beneficial if a patient is not in a position to travel to the clinic on their own. 
This system is particularly aimed at making health services more accessible to the disabled and those in rural areas. 
4.2 Accessibility: 
The accessibility factor is what especially stands out in the branch of telemedicine. 
The fact that this system can expand its access to people living in rural areas, or the ones who find it difficult to make it to the clinic, telemedicine is nothing more than a blessing in disguise for them. 
In addition, patients with chronic ailments who require regular monitoring may also avail of the benefits of this system. 
4.3 Less Expenses: 
Telemedicine cuts down the expenses of many external forces that are involved while visiting a clinic. This includes expenses on travel, parking, and even childcare. 
In some instances, it also saves a patient from investing in rent for a bed and hiring caretakers. 
4.4 Patient Response:
In such scenarios the patient response becomes crucial. Patients who are regular with telemedicine have often said that telemedicine is preferable, and makes them feel more cared for. This is probably because of the fact that they are allowed to be in the comfort of their homes while getting the best treatment. 
4.5 Infection Risks: 
Telemedicine is useful in reducing the risk of spreading infection, since the patients will be confined to their homes, and also will be in contact with fewer people. This situation will be helpful in times of serious health crises such as the COVID-19 pandemic. 
Altogether, telemedicine is a strong tool that seeks to improve the healthcare situation in the world. At the same time, the field is evolving and will probably have a huge role to play in the future of healthcare. 
5. Telemedicine in the Future: 
From the above description, it seems like the future of telemedicine is bright, and will move towards revolutionising healthcare. The future seems more explorative and experimentative with regard to telemedicine. Keeping in mind the present trends, there are a lot of developments that we can expect. 
Firstly, telemedicine platforms will see a rise, as more and more people will start using them. As per data, in 2020 there were 100 million telehealth visits in the United States alone. This number will witness a steady rise in the years to come. 
Secondly, telemedicine will be used for a wider range of ailments, and services. It will not only stick with minor ones. It may go on to cover mental health care, surgery, and even the management of chronic ailments. 
Thirdly, the technology dealing with telemedicine may also see a positive development. With advancements in AI and VR, the scope of telemedicine will also be broadened. 
Lastly, prioritising the confidentiality of the customers will also be highlighted. Since these sites require a lot of personal health information to be submitted, with further updates confidentiality will be more prioritised.
In short, the future of telemedicine is something to look forward to. This technology is something that is still developing and hence we can witness improved versions of it. It has the potential to improve, and this will lead to an improved standard of healthcare for both doctors and patients. 
6. Conclusion: 
It is interesting how medical science has been evolving and incorporating several technologies to improve the quality of healthcare. The advent of telemedicine has seriously transformed how healthcare is accessed and delivered.
What began as a fragment of imagination in the early 20th century has evolved into a dynamic essential field that gets together medical power from all over the globe to the fingertips of people globally. The growth of Telemedicine reflects the ability to adapt to the altering scenes in technology.
Telemedicine is bringing about convenience, reducing cost expenses, and making medical services accessible. It is trying to give the best of services even to the ones in the rural communities. The sudden emergence of telemedicine can be attributed to the COVID-19 Pandemic.
The benefits of the system are multifold, and that assures us that the future of telemedicine will indeed be bright and prosperous. The system is most likely to incorporate AI and VR to make it more reliable, and convenient.